Just as we thought it was perfectly safe to hang up those snow shovels.  Turns out Mother Nature has something in store for us that starts with "s" and ends with screaming in agony.
So, get out and enjoy this glorious 50-degree weather while you can.  Because, by tomorrow, it's going bye-bye.  According to the weather people, this will be us on Tuesday.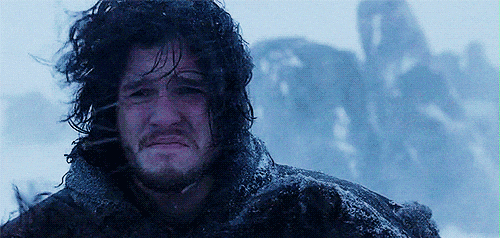 Friday ain't looking too friendly, either.
Luckily for us, though, this winter has been moderately tame.  I mean, with the exception of Blizzard Chris that gave us about a foot of snow.  But, whatever we got was melted away thanks to an onslaught of spring-like weather. So, really, we suffered for maybe a day and that was it.
Still, it's understandable why we're resisting the urge to raid the grocery stores of all their bread and milk.  Friday looks like it's giving us about 4 inches of snow.  Yeah, that's dandruff compared to what we Nutmeggers can truly handle!
Besides, with temperatures hitting the 70's last month, how bad can Tuesday's storm be?
Apparently, it can be pretty bad.  March does have a pretty bad rep in terms of snowy weather.
Snow March is a real terrible thing because when it hits, it hits hard.  According to CT Post, the state historically averages about 10 inches during the month.
It also experienced its fair share of powerful March blizzards.  Too many, if you ask me.
Anyways, the worst blizzard on record is the Blizzard of 1888 (dubbed "The Great White Hurricane,) which punished the state with over 40 inches of snow.   Some towns reported over 50 inches and snowdrifts as high as 30 feet!  And guess what month that happened in?
Okay, so that was over 100 years ago.  Late season blizzards must be a thing of the past.  Global warming and all that, right?  Wrong.
The Blizzard of 1956 dropped about 22 inches all over the state.  That year is also down in the books as the snowiest March in history.
Meteorologists dubbed the Nor'easter of 1960 a "category 4" storm.  It brought the state to its knees by dumping 10 to 20 inches of snow.
1993 wasn't a cakewalk, either.  The "Storm of the Century" yielded 8 to 21 inches on the state.  I vaguely remember building a 9ft snowman with my dad when it happened.  Vaguely…
So, it looks like we're overdue for something.  Is it right now?  Possibly.  With WFSB raising the alarm for Tuesday's snowfall, which will be another slow-moving storm like Blizzard Chris, we could be in for a doozy.
Here's the forecast so far…
"There is the possibility of heavy snow and gusty winds.  If our timing is correct, snow will develop late Monday night and it will fall throughout the day Tuesday.  This may be a slow moving storm, which means more snow is possible Tuesday night and Wednesday morning."
Will the kids get off school that day?  Possibly since the snow is looking to be an all-day event and most districts have a couple extra days to burn.   So, make those arrangements with the babysitter.  You might need one!
What do you think? Comment below