Many have compared this presidential race, especially on the Republican side, to professional wrestling. The debates have become the closest thing to a WWE Royal Rumble match without actually being one. It's looking like the upcoming RNC could have more bloodshed than WrestleMania this year.
This WWE comparison became a lot more interesting Wednesday morning when former Connecticut candidate for Governor and First Lady to Vince, Linda McMahon, went on Chaz and AJ In The Morning to discuss if she would run for Governor of Connecticut again. Linda responded with an emphatic "Absolutely not". Which is really not a shock seeing as she got absolutely trounced two elections in a row. Time to hang it up as far as running for Governor goes.
Then… a few minutes later the conversation switched to the current presidential race and Donald Trump. Linda said she likes Trump. Telling Chaz, "I like Trump believe it or not. I've known Trump for about 20 years and there's a lot more depth than what you see."
Then came the juiciest part of the interview. Chaz asked Linda her thoughts on the state of the Republican Party and if she thinks it's going to implode. Here's the exchange:
Chaz: What do you think happens to the Republican Party if Trump goes to the convention leading the delegate votes but then doesn't get the nomination. Does the party implode at that point?
McMahon: I don't think it's going to implode, I just think it's really gonna be messy, and I'll be at the convention so… I'll be a witness first hand…
Chaz: Are you a delegate?!
McMahon: No I'm not a delegate, but I will uh… I'm not… uh, no I'm not a delegate
Chaz: So what will your role be at the convention?
McMahon: I'm not sure. I'm not sure.
Chaz: Sounds like a surprise. I think you know.
McMahon: (uncomfortable laughs)
Chaz: You're gonna speak?! You're speaking at the convention!
McMahon: No. No no no. Nope
Chaz: Are you the vice president?!
McMahon: No way Jose.
AJ: Trump/McMahon!
McMahon: (more uncomfortable laughter) Bite your tongue.
Chaz and AJ tweeted out the podcast of the exchange. The Trump talk happens at about 7:25 in.
Former Senatorial candidate @Linda_McMahon answers the question: Will she run for #CT #Governor or not? https://t.co/VCzAgbEooR

— Chaz (@ChazandAJ) March 30, 2016
(in Jim Ross voice) "Good GOD ALMIGHTY! That's Linda McMahon's MUSIC!!!"
As if this Trump Train couldn't get any crazier. Can you imagine if he announces Linda McMahon as his VP?!
Buckle up.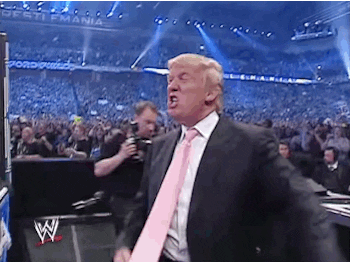 The craziest part about all of this is that it wouldn't really shock anyone at this point. Any other year, any other race, any other candidate it would be a ridiculous move. But this year, this race, this candidate? Maybe it's actually the right play.
Seems like a good strategy going up against Hill in the general election if Trump does in fact survive RNC-Mania and ends up the nominee.
I like to think that this was all just part of Vince and the McMahon's plan from the start. 36 years of wrestling just to achieve one goal. The White House.
What do you think? Comment below